Do you want to hear a conversation from your phone directly into hearing aids, hands-free, but do not have an iPhone?
The Phone-Link is what you need!

Small and light, Beltone Phone Link is the only device able to use the 2.4 GHz technology for a secure connection between your Bluetooth phone and your hearing aids.
Hear the phone ring in your hearing aids, even when the phone is kept in a pocket or purse. Talk hands-free, and enjoy a crisp and clear conversation in both ears. Use the mute button to eliminate background noise when you're talking in noisy environments.
Beltone Phone Link 2 also serves as a remote control to change the machine's programs and adjust the sound volume when you are on the phone or not. By applying Beltone ™ SmartRemote the Phone Link 2 can turn an iPhone® or Android ™ phone into a remote control.
• Voice Signal free of feedback.

• Provides a convenient way to control the functions of the hearing aid.

• It has two built-in microphones capable of noise reduction as a resource for improving the quality of speech, facilitating the understanding of what is said.

• Connects to two different phones




Beltone TV Link
Beltone TV Link is the first accessory that sends the TV sound directly to the hearing aids without the use of wires.It transmits high quality stereo sound from your TV or computer to your hearing aids using the 2.4 GHz technology.

There is no need for a device or telecoil-neck loop. Enjoy the freedom to move around the bedroom or living room at will.
TV Link gives you plenty of listening options. Gain your autonomy through the volume control to increase or decrease the TV without affecting what others hear. In addition, you can hear the sound you want, even when others are talking nearby. You can even eliminate the "background noise", if desired.
Beltone Remote Control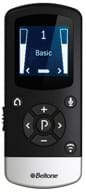 The Beltone remote control is a portable device that allows you to easily and discreetly monitor the operation of some of the functions in your hearing aid. Its use gives you the autonomy to change programs and adjust the volume you hear coming from the environment, directly to your hearing aids.
It displays a screen showing your actions quickly and easily, helping to manage the sound of devices connected to it. You can make adjustments wherever you go. Extremely easy to use, provides information on the volume level of the devices, battery condition and which program is in use.
It also presents a great advantage: the Mute button, which allows you to hear only the sound source you want when the surrounding noise becomes too high - also features a rechargeable battery.
Beltone My Pal
With the help of My PAL you can choose the audio source that will go directly to your ears.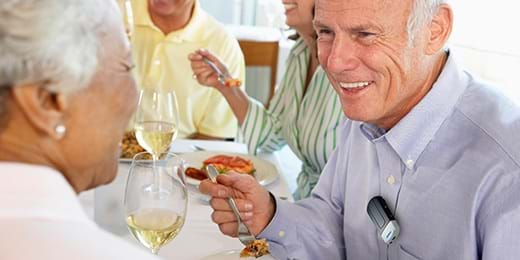 The my Pal helps you hear exactly what you want to hear in noisy or busy environments , such as restaurants, lectures, meetings, airports and family events. It is a small portable microphone that can be used by a person that you have more difficulty hearing, for example. It can also be placed on the table to capture information that is farthest from you, directly to your hearing aids.
Beltone My pal can also be placed near the TV at a friend's house, for example, to transmit the program directly in your hearing aids. You can hear ar your own volume, without changing what others hear.
In addition, mypal can be connected to your PC, iPad® or MP3 player to transmit audio to your hearing aids, at home or on the move. So, no matter where life takes you, you will not miss a single moment.
Personal Audio Link

»Volume Control

»Microphone can capture sound sources up to 7 meters away

»Pluggable with radio or MP3

»Rechargeable via USB or wall outlet




Beltone SmartRemote™ App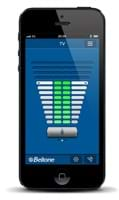 Do more with your hearing aids! Download the Beltone SmartRemote application.
All you need is a Phone Link and you can use the SmartRemote on your iPhone or Android ™ as a discreet remote control. This application allows you to adjust the volume, change and listen to programs, enjoy clear phone calls and more. A simple touch of a finger is all you need. The application is free and easy to use.
With SmartRemote you can:
- Control the volume in one or both ears discretely
- You can listen to or change the programs of the hearing aid according to the environment that you are in
- Reduce the noise around you while you are talking on the phone
With the technology used by Beltone 2.4GHz your SmartRemote is faster and more effective.

Enjoy crisp, clear phone calls with direct link to your devices via the Phone Link and treat yourself to a comfortable experience. The phone sound signal is sent directly to your hearing aids, for this reason you can experience a clear conversation. The sound is custom fit. Enjoy a listening experience tailored to you. Listen to the conversation in both ears, or, if you prefer, in just one side.
Beltone HearPlus App

For a discreet and easy control of your hearing aid.
Through this application you can change the volume, settings and programs, check the battery status and even locate your hearing aid, (in case you have lost your hearing aid) all through your IPhone, IPad, IPod or Samsung Galaxy S4, S5 S6 EDGE and Galaxy Note 4.
Available in English, German, Italian, Spanish, Dutch, Danish, Swedish, Portuguese, Romanian, Korean, Norwegian, Chinese and Japanese.